THE campaigning for the 15th General Election (GE15) has stepped up in momentum and it looks like the battle for the 13 parliamentary seats in Penang is going to be a thriller.
In Tanjong parliamentary seat — which will see a three-cornered fight — two women candidates Tan Kim Nee (Barisan Nasional) and Lim Hui Ying (Pakatan Harapan) are the front-runners, but Gerakan's veteran politician H'ng Khoon Leng (Perikatan Nasional) should not be discounted.
Both Tan and Lim are first- timers while the 58-year-old H'ng had contested the Padang Kota state seat in the 14th General Election (GE14) where he lost to Chow Kon Yeow, the current Penang chief minister.
Candidates contesting P047 Nibong Tebal are (from left) Fadhlina Sidek (Pakatan), incumbent Datuk Mansor Othman (Perikatan), (fourth from left) Datuk Seri RS Thanenthiran (Barisan) and Goh Kheng Huat (Independent) taking a group picture after the nomination at the Jawi multipurpose hall in Penang.
H'ng said he was not perturbed about being called the underdog, as all he wanted was to serve the constituents and fight for a corrupt-free country.
"My slogan 'People, People, People' means whatever I do is for the people and I will talk about corruption as I am in the Penang chapter of Rasuah Busters set up by Yayasan Sinar Untuk Malaysia.
"I look forward to my battle against Tan, as her brother Hing Teik, who is Barisan's Komtar coordinator, is a good friend and I consider this to be a fight between good friends," said H'ng.
P049 Tanjong candidates (from left) Lim Hui Ying (Pakatan), Tan Kim Nee (Barisan) and H'ng Khoon Leng (Perikatan) showing their ballot number during the nomination day at Dewan Sri Pinang — CHAN BOON KAI/The Star
A self-professed newcomer despite being in MCA for the past 17 years, Tan, 38, said she would go to the ground to meet the constituents and also use social media to promote Barisan's pledges.
Asked if she felt the pressure facing more experienced rivals, she said yes but it would not deter her.
She said she would give her 100% and hoped that voters would give her a chance to serve them.
Loganathan feels the people will vote a party that will bring stability.
"Let me be your voice in Parliament and I will raise your problems, especially those related to the younger generation," she said.
Pakatan's Lim said she would campaign on an early preparation for the country to face an ageing population, cementing the George Town inner city as a Unesco World Heritage Site, and gender equality with a focus on citizenship of children born to Malaysian mothers.
In the Bukit Bendera seat, Independent candidate Datuk Razalif Mohd Zain was a surprise inclusion, making it a five-way battle.
Gerakan's Baljit Singh contesting Jelutong seat under Perikatan.
He will contest against Syerleena Abdul Rashid (Pakatan), Teh Yee Cheu (Parti Rakyat Malaysia or PRM), H'ng Chee Wey (Perikatan) and Huan Xin Yun (Barisan).
Meanwhile, the Jelutong parliamentary seat will witness a six- cornered contest.
Candidates comprising Barisan's Datuk Loganathan Thoraisamy, 59, Perikatan's Datuk Baljit Singh, 56, PRM's Koh Swe Yong, 71, Warisan's Lim Huat Poh, 54, and independent Mohamed Yacoob Mohamed Noor, 33, will attempt to wrest the seat from the incumbent Pakatan's RSN Rayer.
Retired teacher Loganathan, the president of the Indian Progressive Front, expressed confidence in facing the elections.
Mohamad Bakhtiar, who is defending the Balik Pulau seat, says voters can evaluate the infrastructure development that he has brought.
"Although I am a first-timer, I know that the people are now looking to support a party that can bring stability. Barisan has a good track record of providing a stable government.
"The voters are looking for change as Pakatan failed to fulfil their promises," he said after submitting his papers at the Penang Free School in Jalan Masjid Negeri on nomination day.
In Bukit Gelugor, a three-cornered fight will ensue, involving Barisan's Wong Chin Chong, 48; Perikatan's P. Thinagaranabhan, 41, and DAP's Ramkarpal Singh, who is defending the seat.
Wong, 48, who is Penang MCA vice-chairman, said if elected, he would work on improving the constituency's infrastructure, provide more free day-care centres, tuition centres and healthcare clinics.
Shah Headan hopes voters in Balik Pulau will give him the mandate to represent them this time around.( November 03, 2022 )- LIM BENG TATT/The Star.
Thinagaranabhan, a businessman who heads the Bukit Gelugor Parti Pribumi Bersatu Malaysia Associate Wing, said he would highlight problems related to flood, traffic and bread-and-butter issues of the people.
In Bayan Baru, the youngest and oldest candidate for the parliamentary seat are 47 years apart, with first-time candidates Saw Yee Fung (Barisan) at 33 and PRM's candidate Ravinder Singh being 80 years old.
They join the six-cornered contest which includes Bayan Baru incumbent Sim Tze Tzin of Pakatan.
Saw Yee Fung, who is contesting in Bayan Baru, says she will pursue issues to empower youth and women groups if she wins the seat.
Saw takes on the former deputy Agriculture and Agro-based Industry minister, Warisan's (Jeff) Ooi Chuan Aun, 67, a former two-time DAP MP for Jelutong, Oh Tong Keong, 54, the Gerakan deputy president, Ravinder and independent candidate Kan Chee Yuen, 49.
The seat has been PKR's stronghold, whose candidates have represented Bayan Baru for three terms since 2008.
Saw said she was happy and excited to be representing Barisan.
"I am the only female candidate here and I am the youngest as well.
"This is a great opportunity for me to highlight what we stand for, which is empowering the youth and women groups," she said.
Sim Tze Tzin, who is defending Bayan Baru, says he has been serving the voters for the past 10 years and they know him well.
Sim said he was happy to see that it would be a six-cornered fight this time around, reflecting democracy in the country.
"I am cautiously optimistic of my chances as I have been here for the past 10 years, so the people here know me well," he said.
Oh said it was time for a new person to take over Bayan Baru and address the serious issues like the bad flooding that had not been resolved.
He said he was glad to be back after a four-year political hiatus, representing Warisan this time around.
"I have been on the ground for the past 10 months to understand the people's needs," he said.
Sim Tze Tzin, who is defending Bayan Baru, says he has been serving the voters for the past 10 years and they know him well.
As of Sept 15, Bayan Baru has the second highest number of voters in the state with the Chinese being the majority at 47.7% or 57,206. This is followed by Malay voters at 46,505, Indian voters at 14,557 and others at 1,442.
For Balik Pulau, a six-way tussle will see incumbent Datuk Muhammad Bakhtiar Wan Chik from Pakatan expecting the main challenge to come from Barisan's Datuk Shah Headan Ayoob Hussain Shah.
Balik Pulau Umno division chief Shah Headan has years of political experience under his belt, having served as the Teluk Bahang assemblyman from 2013 to 2018.
Muhammad Bakhtiar, 57, from PKR had served as the deputy minister of Tourism, Arts and Culture from 2018 to 2020.
The six-way fight includes Perikatan's Muhammad Harris Idaham Abdul Rashid, 30, who is the youngest of the lot, Pejuang candidate Ahmad Fazli Mohammad, 47, and two Independent candidates Datuk Seri Sabaruddin Ahmad, 49, and Datuk Seri Johnny Ch'ng Ewe Gee, 50.
Syerleena from DAP is tasked with defending the Bukit Bendera seat for Pakatan in a five-cornered fight.
Muhammad Harris, Ahmad Fazli, Sabaruddin and Ch'ng are new faces to the political scene. They are taking on veterans Muhammad Bakhtiar and Shah Headan.
Shah Headan, 58, said it should be an interesting contest.
"Despite losing in GE14, we still carried out work for the people and I hope the voters will give us a chance this time.
"All those competing this time have a chance.
"It is hard for us to analyse because each candidate has his own supporters, but I hope the voters will give me the mandate to represent them in government," he said.
Muhammad Bakhtiar said the six-cornered contest "shows that the democratic process in the country is still alive and it needs to be respected by all parties."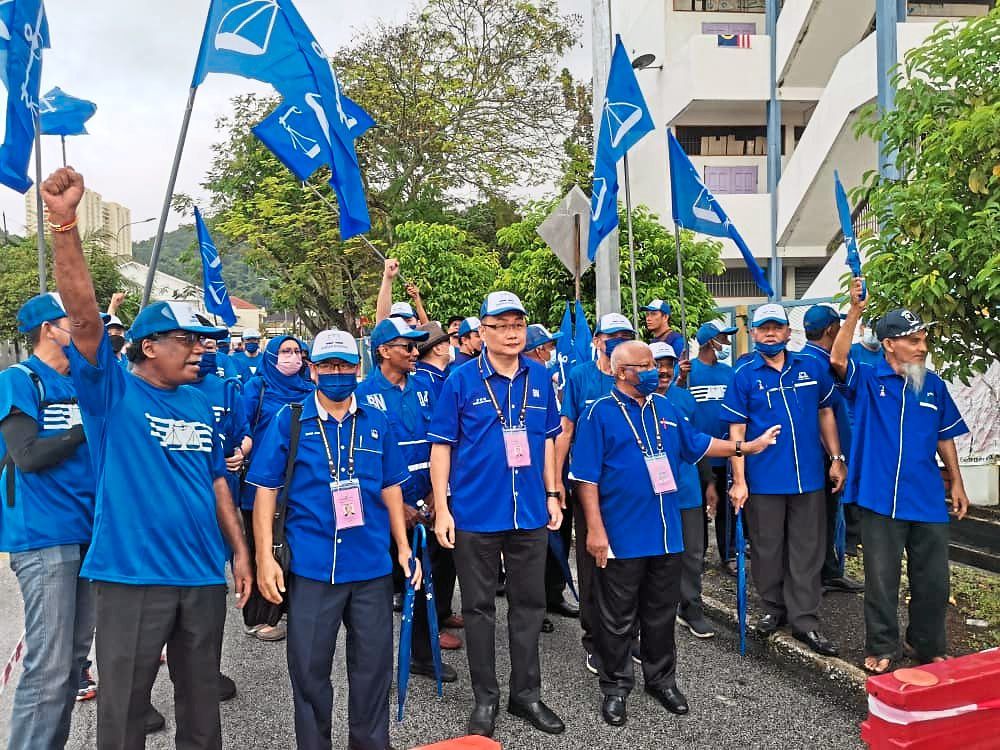 Barisan supporters escorting MCA candidate for Bukit Gelugor Wong Chin Chong (third from left, front row) to submit his nomination papers at SMJK Chung Hwa Confucian. — Photos by DAVID TAN/The Star
''No matter how many candidates there are for a seat, we have to respect each other. I am grateful that the nomination process went smoothly on Saturday.
''With my performance and track record as the MP here, I hope voters can evaluate the work and infrastructure development that I have brought here," he said.
Muhammad Harris from Bersatu is also optimistic about his chances against his opponents.
"I am not afraid of competing with them and I want Balik Pulau voters to evaluate me based on my potential," he said.
The seat was once held by Barisan's Datuk Seri Hilmi Yahaya in 2013 before being wrested by Muhammad Bakhtiar in 2018.
As of Sept 15, Balik Pulau has 80,303 voters, with the breakdown being more than 65% Malay voters at 52,389, followed by Chinese (23,322), Indians (3,872) and others at 720.
In Batu Kawan, Barisan's candidate Datuk Tan Lee Huat from MCA will go against Penang Chief Minister Chow, former Bukit Tengah assemblyman Ong Chin Wen under the Warisan ticket, Wong Chia Zhen (Perikatan) and Lee Ah Liang (PRM).
DAP supporters escorting Ramkarpal Singh (centre, arm raised) to file his nomination papers also for Bukit Gelugor.
Chow, who just recovered from Covid-19, said he would regain full physical strength soon as he had been keeping fit to face GE15.
He said he would focus on traffic congestion and water supply woes as well as foreign worker hostel issues in Batu Kawan.
Wong, 37, who is the youngest of the pack, is a businessman whereas Lee, 75, who is the oldest, is a retired teacher.
In Nibong Tebal, incumbent Datuk Mansor Othman (Perikatan), who was the former Environment and Water Ministry deputy minister, is up for a fight against Datuk Seri RS Thanenthiran (Barisan), lawyer Fadhlina Sidek (Pakatan) and Goh Kheng Huat (Independent).
Goh, 60, who was Nibong Tebal MP from 1999 to 2004, said he was a local boy and had contested under DAP then.
"But I have not been involved in any political parties for 15 years and I only decided to run as an independent candidate because many voters told me they were disappointed with the previous Federal governments."
The challenge is on for incumbent Bukit Mertajam MP Steven Sim Chee Keong to defend his seat from two other candidates, namely Barisan's Tan Yang Pang from MCA and Perikatan's candidate Steven Koh Tien Yew from PAS' non- Muslim Supporters Congress (DHPP).
Sim, 40, has held the seat for two terms since 2013 while Yang Pang, 39, is Bukit Mertajam MCA Youth chief who also grew up in the same town.
Koh, 41, who is from Klang in Selangor, is a social activist and formerly the Penang DHPP deputy chairman.